Letters That Pigasus
Would Like to Share
Letter from a Piggy Mom
We went with some out of town friends to Sweety Pies on Sunday for breakfast, and we sat in the enclosed patio section beside the house. We happened to notice a couple of zip lock baggies pinned to a post and a wall. The bags were half filled with water, each contained 4 pennies, and they were zipped shut. Naturally we were curious! Ms Sweety told us that these baggies kept the flies away! So naturally we were even more curious! We actually watched som
 flies come in the open window, stand around on the window sill, and then fly out again. And there were no flies in the eating area! This morning I checked this out on Goggle. Below are comments on this fly control idea. I'm now a believer! More comments not included here were about pet dogs and fly problems.
Sue
Zip-lock water bags
Many people swear that a zip-lock bag filled half-way with water and attached over entry-ways will repel flies. No one yet knows how or why it works, but there is speculation that it has something to do with the way the moving water refracts light. If you have tried this please use the comments form at the bottom of the page to share your results with the rest of us.
Ann
I did tried the ziplock bag and pennies this weekend. I have a horse trailer with full LQ. The flys were very bad this weekend while I was camping. I put the baggie with pennies above the door of the LQ. NOT ONE FLY came in the trailer. The horse trailer part had many. Not sure why it works but it does!!!!!!!
October 5th, 2008 at 5:51 pm
Danielle Martin
Fill a ziplock bag with water and 5 or 6 pennies and hang it in the problem area. In my case it was a particular window in my home. It had a slight but significant passage way for insects.Every since I have done that,20it has kept flies and wasps away. Some say, that wasps and flies mistake the bag for some sort of other insect nest and are threatened by this.
September 20th, 2008 at 8:43 pm
Maggie
I swear by the plastic bag of water trick I have them on side porch ( our house entry) and all around the basement door. We saw these in Northeast Mo at an Amish grocery store & have used them since. They say it works because a fly sees a reflection & won't come around.
June 7th, 2009 at 11:40 am
Julie Koberstein
A Special Thanks and Recognition
To Pigs4ever
I used to have two potbelly pigs, but they have both past over the Rainbow Bridge, but I still love the pb pigs.  I ordered something online, and your website link came up, so I just clicked away.  I looked at your sanctuary sights.  In particular the one that I was looking for was missing, so I thought you might like to add it to your list of sanctuaries.
It is owned by Sioux and Rocky Robbins and they are located in Mack, Colorado.  When we moved from Oregon to Alaska, we had our two pigs air freighted to Alaska.  That was in 1995.  The Vet service was on a scale of 0 to 10, lets call it a 1.  I woke up one morning and our female, Marki was not feeling so well.  I sent out an email distress call to individuals that I knew.  Some of these being breeders and sanctuaries.  I left home about 6:00am and drove 48 miles to work.  One of the individuals that I had sent the email to had left me a message on my voice mail at work.  Again, when our Harley began having problems, Sioux was the first person that phoned and guided me on what I should be doing next.  At least this time, I did have a Large Animal Vet that made house calls.  He came by and did what Sioux suggested, which was to check his liver.  The Vet confirmed that it was  liver failure and that night, Nov. 13, 2007, our little rescue pig Harley past over the Rainbow Bridge at the age of 14.  Marki was also 14, and she passed away with undetermined causes. (we didn't have a Vet that would take a pig as a patient here in AK at that time)
Every time I needed to know something about the health and welfare of my two little pb kids, Sioux was right there.  The distance from Colorado to Alaska was only an email or phone call away.  
Sioux's email is pighome96@aol.com and her website is http://pigasus.org/
Without her unconditional love & her knowledge, my pigs would not have faired so well when they were at their end of life.  So if you have the room, and the time, could you please add Pigasus to your website.
Thank you Pigs4ever
Chris & Carey
Coolidge
Clovie's Story
We adopted our sweet Clovie in March of 1994 when she was just 4 months old.  Her previous owner was a college student living in a house with a bunch of other guys.  Her original name was O'Malley and she lived in the basement, being fed only potatoes.  When he decided he didn't want her anymore, he was going to abandon her in the wild outside of town.  We decided we couldn't let that happen and adopted her. 
When she first came to live with us, it was as if she had never seen daylight, she was even afraid of grass.  It took a long time for us to earn her trust and love.  We gave her a new name, Clovis Sue (Clovie, for short), and a fresh start. 
When Clovie was about 3, she sustained an injury to her rear legs.  She was outside happily grazing on some grass in the backyard when a large dog jumped the fence.  The dog chased her around the yard until in an act of desperation to get away, Clovie jumped off of a 20 foot deck. Although there were no immediate signs of injury, as the months and years passed, it was apparent that Clovie was having more and more difficulty getting around.  The lack of vets who knew anything about pot-bellied pigs in Nebraska made things especially frustrating and some of the methods they used to try to ease her discomfort may have made things even worse.
The years went by and in August, 2001, Chris got a job in Denver.  Moving to an apartment meant we would have to find a new home for Clovie, as heartbreaking as it was.  We searched the internet for some type of pig boarding farm that was close enough to Denver for us to visit Clovie at least a few times a year and run by someone who we felt could provide Clovie with the love and support that she needs.  Lo and behold, we found Pigasus Pig Sanctuary.  Because of Pigasus, Sioux and Rocky, we have never had to worry about our sweet Clovie.  Most of the other pigs at Pigasus were left by people who had no intentions of paying for their care, ultimately leaving it up to Pigasus to cover the expenses.  Thank God for devoted people like Sioux and Rocky.
We can't make it to the western slope as much as we would like to these days, but we always look forward to our visits.  We now have two children and will continue to make the journey with them and teach them what a truly intelligent and loving companion the pot-bellied pig can be.
Julie Koberstein
Harley and MarkiHi Sioux & Staff
Cc:  All the Pig-a-sus Piggies I will Pray that it is a success for Pig-a-sus.
Thank you for thinking of Harley and for lighting a candle for him. Could you please light one for Marki as well? We had them flown up from Oregon when we move to Alaska in June of 1995.  The hurdles were many here in Alaska.  Vets felt they were too good to have a potbelly pig as their patient.  Currently the Kenai Peninsula has only one Vet that will consider a pig as a patient.  ADVICE:  If you are planning to move your pigs to Alaska, you had better be proficient in their health care.  Marki was a Birthday present for Don and Harley was a rescue pig. We always guessed that the two were a year apart in age. Marki – born Sept 1992; passed over the Rainbow Bridge in May 2006
Harley – was a rescue pig, but Don brought him home on Christmas eve from someone that kept him in a small dog kennel, and he rarely got out to exercise his legs.  I hated the little darling when Don brought him home, but by Christmas night I was in love with the young little court jester.  Some of the silly things he used to do – like drag a 25 foot long rope with his mouth all around the house.  He always seemed to know when the rope was even on both sides of his mouth.  When he got through playing with the rope he would roll it up better than any cowboy did with his lariat.  Since Don and I worked, we were wondering how this piece of rope kept cropping up on the carpet in different places.  Then one weekend – we saw Harley do his 'trick' – and the mystery was solved. Harley – we guestimate that he was born in Oct 1993 – and went over the rainbow bridge in his sleep on Nov. 13th, 2007.How I miss that little rascal. Without the helping hand of Sioux Robbins, both of my pigs would have passed a lot sooner, but she reached out her helping hand from Colorado to Alaska and got us over the hump – until God said – tis time to bring them home.  Harley came to Don in a dream about two weeks after he passed, and he was standing in a green field of grass, with Harley standing by him.  Marki came running over the hill to get Harley, and he saw them both go over the hill. Again, good luck Sioux & Company.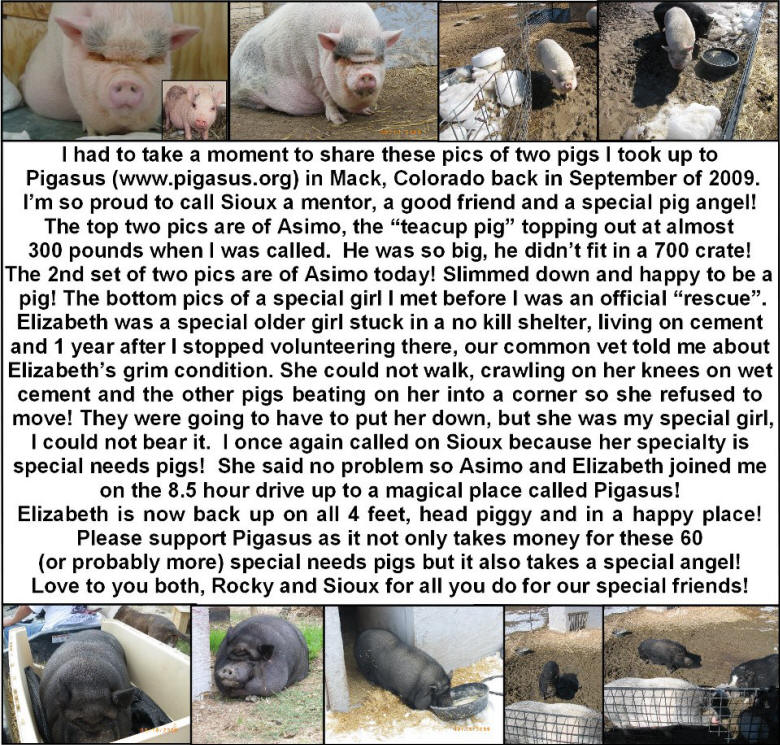 Have questions? We have answers.