My name is Sioux Robbins and I love Potbelly Pigs. The Pig-A-Sus Homestead Sanctuary,  located outside Grand Junction, Colorado, was created out of the tragic death of a Potbelly Pig named Thumper in 1996. Having owned Thumper and her mother, Betty Boop, for eight years I decided to make Thumper and Betty Boop a legacy- Betty Boop for giving me my beautiful Thumper and Thumper for giving me the loyalty and devotion that no human could possibly understand. Thumper's death was tragic and untimely, but as she watches over the Pig-A-Sus Sanctuary daily, the hairy little nose is on the wind and now we have 65 Thumpers. No one Potbelly will ever replace Thumper but all 65 shows one or two characteristics of her. The Pig-A-Sus Homestead Sanctuary is nestled on a small acreage on the Baxter Pass Road bordered by the desert on the west, the Bookcliffs on the north and east, and the Colorado National Monument on the south. The sanctuary has been under construction since June of 1996. Our number one goal is the education of groups of preschoolers through elementary school children, senior citizens, and, most of all, PET OWNERS. The Sanctuary does have facilities for the handicapped (paths and restrooms). A picnic area and lawn have been started by 
volunteers
 and will continue as time and funds permit. We do offer an 
"Adopt-A-Pet"
Program for those who are limited by time or location. At present we have several families who had to relinquish their beloved pet because of zoning. They do weekly or biweekly visits and do family things together (even to the extent of a birthday party at McDonald's for Pork Chop). Pig-A-Sus is a 
source of information
 on the Potbelly pig. We currently use the paperback book "Pot Bellies and Other Miniature Pigs, A Complete Pet Owner's Manual".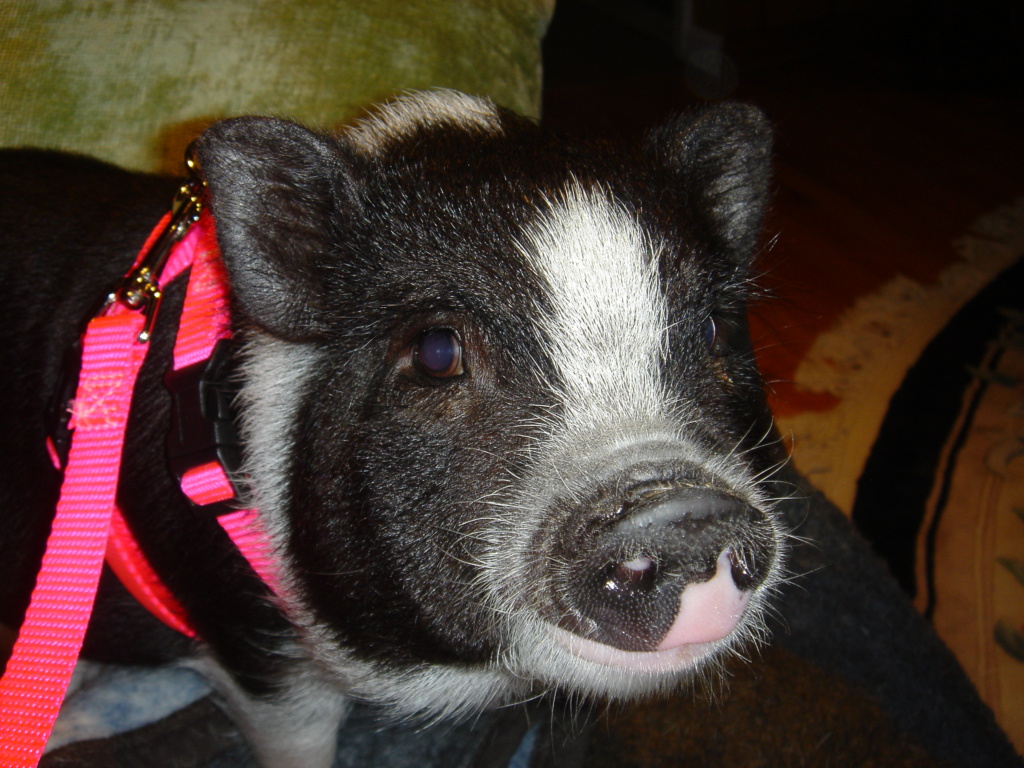 Our up to date information and assistance comes from Amigo Animal Clinic. Dr. Brian Wiseman, Dr. Pete Jouflas, and Dr. Paul Grych, who have been very knowledgeable and have contributed lots of time and energy to our never-ending list of problems and questions. We also have a new veterinarian onboard Dr. Ian Smith, Grand Valley Veterinarian Clinic, Loma, Colorado, Plus we have available one of the most knowledgeable potbelly pigs vets in the USA,   Dr. Meredith Campbell out of Lakewood, Colorado.  She is also available for consults anywhere in the USA. Many people have spent a great deal of time volunteering and donating items needed for our Potbellies. Total care for one animal for one year is approximately $450.00. This includes all shots, quarterly de-worming, feed, water, straw, heat lights, individual needs, and a major important item, feet trimming. Many of the Potbellies we adopt come to us in a very obese condition which contributes to arthritis. Jimmy Dean's Nana, Carol Sauer,  has donated her time in the insulation of the hydrotherapy tubs which is very helpful to the legs and muscles of the animals.  See our hydro department for more information. In June 1998 we became involved with Project P.U.P.S in Mesa County and also the "Adopt-A-Roadway" program. Our two-mile stretch of highway is along 5 Road in front of Pig-A-Sus to 7 Road. If you don't find the information you need on our website, please feel free to
contact 
us any time.
Have questions? We have answers.