Welcome to the Pig-A-Sus Homestead. A Colorado non-profit group since 1996 dedicated to providing shelter for Potbelly pigs and resources for owners of Potbellies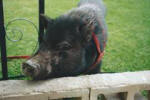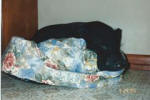 Ms. Heidi's Legacy
1992-October 2014
Potbelly pigs were the fad pet of the early 1990s, and being a lover/collector of pigs, I decided to pay big bucks and purchase my first pet pig, who was named Hamlet. After four years and learning of so many pigs starting to fill sanctuaries like PIGASUS, I decided that I could afford to "foster" a second pig. That's when I found Heidi. Originally she was going to be named "Ophelia" in honor of Shakespeare's tragic couple, but after meeting her, I knew that she would keep her "birth name". 

Heidi came to live with me when she was 2 years old and only 45 pounds. Within a week I knew she had found a new forever home. It didn't take her long to bond with Hammy, and now I had two pigs to care for. Heidi went to Hog Heaven and became a guardian angel pig after living with me for 20 years. What a life she led and what stories I have about her in my memory bank!

Hammy was the perfect pet who never got into trouble. Heidi was the exact opposite. She learned to open drawers and pull out all the contents. She figured out how to open the refrigerator. I remember coming home from work one day and finding what looked like a blood bath in my kitchen. Heidi and Hammy had discovered the squeeze bottle of ketchup! Eventually the refrigerator had to be kept closed with a bungee cord, and I spent many hours cleaning up after Hammy and Heidi's exploits!

Heidi was the best traveled pig in the family. Back in the 1990s it was hard to find anyone who I trusted to pig-sit, so I drove everywhere – even on business trips. Heidi took over 50 trips with me (along with whatever other pig(s) I had at the time). We went nearly coast to coast. She traveled to California, Iowa, Massachusetts, Georgia, South Carolina, Texas and more. I have no idea how many thousands of miles we traveled. Pigs are the best car mates ever. They just sleep most of the time and need few potty breaks. Hammy and Heidi (along with my current pigs Queenie and Olivia) have attracted more than their share of on-lookers, and I'm sure there are many people who have photos of Heidi in their family photo collections.

Heidi was a tough pig, and needed a lot of socialization and personal attention to get her to be comfortable around people. While she got along great with Hamlet, there was a time when she decided she wanted to be the alpha member of the family. Yes, I received lots of black and blue marks in the early years, but she became the most mellow of pigs in her senior years. In her later years she would follow me around and want belly rubs, coming up to me and just plopping down on her side. She trusted me 100%. There aren't enough words to express the love between the two of us.

After Hamlet passed away I originally was not going to get another pig. Then I met a little female when I went to visit a herd of pigs in Swansea, South Carolina. That's when Miss Queenie came to live with us. At first Heidi wanted nothing to do with this fresh, up-start piglet, Within 3 months there were inseparable, and Heidi became the "big sister" to this shy little pig from the South. I remember when Queenie was spayed. Heidi stayed with her in the barn at Colorado State University the night before the surgery. And on the drive home, even though I tried to keep them separated to protect Queenie's stiches, Queenie wouldn't have it, and jumped into the back seat to be with Heidi. My two girls were together for almost 15 years. I know Queenie misses Heidi as much as I do.

Through the years Heidi has been the instigator of the pigs getting into trouble a few times. One summer when I was visiting family in Iowa, Heidi and Queenie decided to venture into the state park next to where we were staying. The pigs became uninvited (yet well photographed) guests at a wedding and then they continued the adventure into the wild, undeveloped area of the park. I found them enjoying a gourmet meal of weeds in the underbrush. They raised their heads to tell me they were okay, continued chomping on the tasty greens, and when their bellies were full, they found their way home.

Now I want to have a legacy for Heidi. While I've helped Sioux with a few pig rescues in the past, now that Heidi has her pig wings on, she is watching over all of us. Just within this first week since her passing, she has guided me to find a new home for a lovely little pig whose owner can no longer care for her, and Sioux has a lead for a new permanent home for Princess, a new resident at PIGASUS.

Heidi will be with me forever, and I hear her angel wings beating in my heart daily! 

Ms. Heidi legacy will be to help more unloved and abused potbelly pigs find good homes and forever love. Ms. Heidi was such an awesome little girl, who over took so much in her life, but when she found Sue, she also was in love and for 20+ years had a life that most potbelly pigs only get to "Dream About". 

Rest in Peace, just doesn't seem to fit in this case, as I know from my experience with her, "There is no rest, as she will be sending message after message, where there is trouble and guide us to that "Unique Pet" who needs a human hand. Keep the wind on our cheeks and laughter in our hearts, Ms. Heidi. Nana Sioux 
We Need Trees! Fall Planting considerations. Trees to shade the pens.
Your pigs Deserve The Best
Please take a moment to look at the sponsors, we really appreciate it when you 
patronize them and please tell them that you saw them on the Pig-A-Sus web site!
Please Support our Sponsors, View them here.