A Day in the life of Swamper & Rye...
Oh no, the alarm, where did the night go… AHHHH, time to get up,…Come on ole girl time to get your butt in gear, Truck is leaving in ½ hour….. As she slides off the loveseat or our bed, stretches and heads for breakfast and then outside to potty. In the meantime, Rye is jumping and twisting around waiting for the morning pet and out to potty… When you hear the scratching from Rye on the door, and look out, they are both there, by this time waiting to be run over by "LulaBelle" the potbelly pig aka "PuddleDunk" as she is grumpy because the dogs were up first. After a good hot morning meal Rye is back on the loveseat or under the blankets with LulaBelle. Swamper looks to see if her lunch is pack as she starts around the kitchen to the door for a full day of being "Rocky's Oilfield Swamper" (For those of you not oilfield oriented, a Swamper is a co-worker who rides with you and helps in any way needed, this is where her name came from). As Rocky gathers lunch she is carefully watching to make sure that her sandwich and snack are put in his lunch pail. Then, out the door for that short or long day and many more miles added to her 8 years of trucking. She knows when the Kenworth starts she is on an adventure. As the Kenworth pulls out of the yard, she is looking out the window telling everyone good-bye. She loves going to see all the things that a normal dog sometimes just lays on a rug and dreams about. Rye is ready for her adventurous day. First, on this trip out the door, she goes to wake up 'Shelby" her daytime companion the potbelly pig, They sleep, play, and wrestle together for hours, then to the front yard to dig a hole or 2 looking for long lost bones, then time for a nap, or a midmorning run to the hill to see the horses, mules, and donkey. Then hello to the rabbits, prairie dogs and she has advertently learn to leave Ms. Skunk, that is living in the woodpile alone, some days she just doesn't want to say "Good Morning". Then back to the house for another long waited nap with LulaBelle or a bath and in the kennel, if Ms. Skunk decided to say "Good Morning"
As evening draws closer and time starts to get late Rye begins to watch the door for Swamper & Rocky. She sits with her head cocked and ears up. Then suddenly she hears the Kenworth and starts to get excited she runs and waits for Swamper to get out of the truck and the jumping and tugging match is on. After a few runs around the yard, they are at the door Rye scratching to get in time for supper and to bed. Some nights Rye is so excited to see Swamper that she can't eat and just wants to play, But being older and more experienced in life, Swamper gives her the gentle snip and "time to settle, look," Then off to sit beside the recliner with Rocky until the news is on, all 3 noddings and catnapping thru the evening. When lights are turned out, Swamper curls adjusting her head on the loveseat arm and Rye by her side. Come midnight at 1 o'clock there is a gentle nudge, 4 feet in your back, and a sigh that she is comfortable and home. Some days they chase prairie dogs at the cows, play in the pond, and do what dogs are supposed to do, love life and be a companion to the human or each other.  3 weeks ago she did her normal thing with the clients from the Hill Top Lap Adjustment Program laid her head in their laps, waited patiently to be petted. Rye, well Rye still being a puppy at heart, just jumped and crawled up on everyone to be petted, no sitting for that busy girl.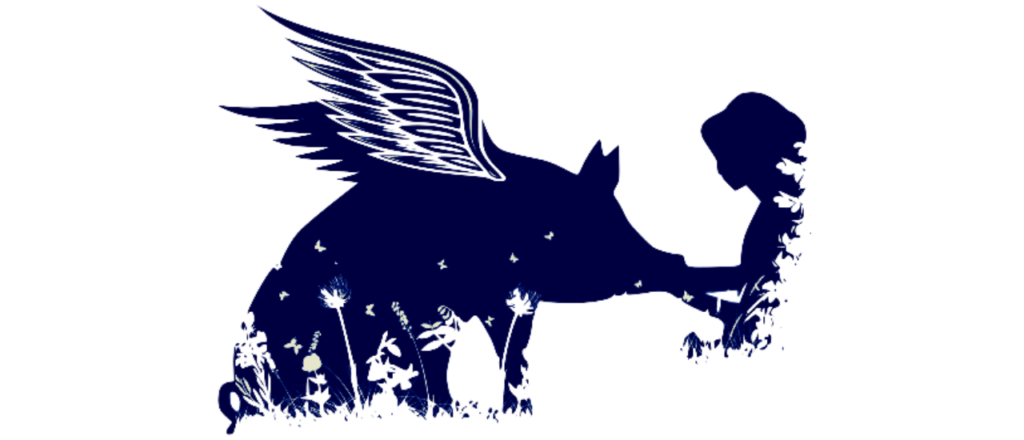 They both had their morning ritual on May 20, 2012. As Rocky was leaving on the Kenworth, there were gunshots in the desert, being deathly afraid of the gunshots, Rye ran, with Swamper chasing after her into the desert. We searched every day, calling their name, with neighbors looking, airplanes flying searching the desert, dirt bikes riding, jeeps and 4-wheelers nothing for 11 days. Flyers, TV, Radio, stores out of town animal controls in case someone saw them and picked them up.We were averaging 30 to 50 miles per day.
Then the heartbreaking news thru a co-worker that he had heard thru another party that the dogs we were searching for had been killed by a neighbor thinking that they were going to get into his livestock on the day that they so scared ran because of gunshots.
So now Swamper & Rye, run free at Rainbow Bridge and their remains have been collected and buried in the 
'Uncle George" Memorial Garden at the Pig-A-Sus Homestead.
For those attending Open House on July 14, 2012, we will have a short Memorial for both.
Have questions? We have answers.