Your Donations and Support are Greatly Appreciated
Emergency Feed Donations

Our situation right now is Critical... We are very close to the EMERGENCY STATE of not knowing the outcome of our organization. We have most all of the winter supplies already purchased and were waiting on new corn crops to be harvested to purchase this year's tonnage. I have an opportunity to purchase a semi load of corn coming from Nebraska, trucking donated for $13.00 per 100 pounds making it $260.00 a ton. The semi load is 25 tons for $6,720.00. If you can spare any amount we would be grateful... Please review our website and see all the 25 years of accomplishments we have made. We Thank You in advance.

$1,825.00

donated of

$6,800.00

goal

New Building

We need to buy a 16 x 40 building & concrete slab that we can put rad floor heat (our whole setup is rad floor heating in all concrete huts, and therapy room and vet room, ) in the concrete slab for winter and cool for the summers.

$2,725.00

donated of

$15,000.00

goal
As a nonprofit group, Pig-A-Sus Homestead is dependent entirely on donations of time, money and resources from people like you.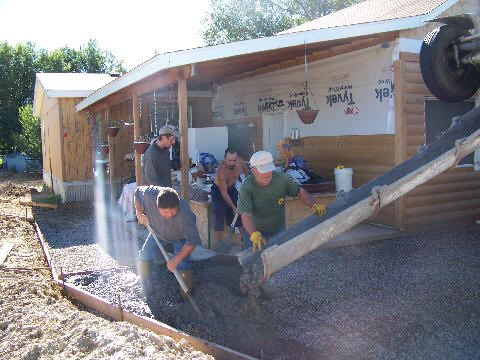 Other things to help with
Funds for New Building
We have purchased enough concrete to complete a 32' Round building, with rad floor heating, fans for circulation, inside waters, dividers and windows for the sun to shine in. We need help to finish the materials for the building, which has been estimated between 4,500 and 5,000.00 dollars.
We have invested so much into this Rescue/Sanctuary of our own funds, that we do not have the remaining funds to finish this construction. It will be the last major improvement to the Rescue/Sanctuary. We also have most of the materials for the rad floor heating to run off our vet room and hydrotherapy.
This 32 foot round building with house up to 45 potbelly pigs. In some of the posting you can see the mud and standing water surrounding the wooden huts. We are replacing the wooden huts at the cost of 250.00/300.00 each to make sure that the potbelly pigs that are located outside have dry sleeping.
We are going to campaign for the fund to finish over the internet, as we have not renewed our insurance to enable us to have fundraisers or the public visit the potbelly pigs for this year. We figured if we have to pay 2,250.00 for public to visit, we might as well use that money to finish the building to give the potbelly pigs warmth thru the winter and cool thru the summers. Besides, at the Open events we have never cleared enough to pay for expenses and since we are private facility, we don't get grants or large donations for construction. Colorado for the last 3 winters has had extremely horrid weather for any type of animal. We campaigned for blankets again in January and received very few. People are just not interested in the potbelly pig as a rescue animal. 
We have a budget that comes out of 90% of our pocket, it cost right at 475.00 per animal for a year, in this we include feed, bedding, vaccinations, hoof trims, treats, worming, heat for the hydrotherapy room and for the 9 heated huts that we already have for 15 old, old potbelly pigs that we have.
This averages out to $1.30 per day, Per Animal and we have 70 so, over all, it is $91.00 Per Day to care for those that are here, $2,730 Per Month and $32,760 per years. This does not count for added expense of spay & neuter or emergencies. 
So if I seem a little upset about how things are going, this might have added to the stress. Especially when people do not get EDUCATED ABOUT THE POTBELLY PIG, BEFORE THE PURCHASE ONE, or when they call wanting to get rid of their animal, and when you tell them there is a fee for placement, they say, "Well we don't want to pay you to keep the animal, we just want it gone." THIS IS WHY YOU ARE THERE. 
WE ARE HERE TO PROVIDE A HOME AND QUALITY OF LIFE FOR THE POTBELLY PIG THAT HAS BEEN ABUSED, NEGLECTED OR BEEN A VICTIM OF "NON-EDUCATED OWERS" OR IN THE DEATH OF AN OWNER, "WE ARE NOT HERE TO CLEAN UP YOUR MESS."
I SET BACK AND LOOK AT BIGGER ORGANATIONS AND SEE HOW MUCH MONEY THEY BRING IN, AND IT IS BEGINNING TO BECOME PUBLIC THAT ABOUT ONLY .15 (CENTS) PER 1.OO, GOES TO THE ANIMALS, ALL THE REST IS FOR THEIR OVER HEAD OF EMPLOYEES, EXPENSE TO RUN THE SHELTERS, LEAR JETS TO TRAVEL AROUND THE WORLD. ETC. THEY TAKE IN 1,000'S PER MONTH, AND LITTLE ORGANIZATIONS LIKE US, (AND BELIEVE ME THERE ARE MORE THAN JUST US OUT THERE, THAT ARE REALLY STRUGGLING WITH THEIR RESCUES), WHO HAVE USED THEIR RETIREMENT, SOLD MANY PERSONAL ITEMS, AND HAVE TO SAY NO WHEN THE PHONE RINGS WITH A POTBELLY PIG IN A BAD SITUTATION NEEDING RESCUE.
So, the next time you receive one of those newsletter or flyers in the mail, or see one of the horrible advertisements on television, STOP and think before you donate, "Is this where my money is going?" and also remember that there is a small rescue or sanctuary that can put your donation 100% to all the animals in your own area.
In closing, I want to ask one more question: In all the paid advertisements, animal shelters, and organizations that are public and worldwide, "HOW MANY INCLUDE THE POTBELLY PIG?"
Check out our PayPal donation button on the web site if you would like to donate, and if you would like to mail your donation, please do so with a return address, to Pig-A-Sus Homestead Sanctuary, 506 S Road, Mack, Colorado 81525.
WE ARE ONLY COLORADO NON-PROFIT, WE ARE NO LONGER 501 © (3), AS WE WANT TO WORK IN LEGISLATURE TO MAKE THE POTELLY PIG A COMPANION ANIMAL OR THERAPY ANIMAL.
Thank you for your interest in one of the most UNIQUE pets a person could own.
Sioux Robbins-Bartels
Pigasus Needs List
Pigasus Wish List!
Have questions? We have answers.