First Aid Kit for
Potbelly Pigs
ITEMS FOR YOUR AT HOME FIRST AID KIT FOR POTBELLY PIGS
USE COMMON SENSE WHEN LETTING YOUR POTBELLY PIG GRAZE OUTSIDE NEXT TO FENCE LINES, BECAUSE YOUR NEIGHBOR MAY NOT BE EDUCATED ON "NEIGHBORLY ANIMAL CONDUCT" AND NOT REALIZE WHAT HE IS SPRAYING WILL MAKE YOUR PETS SICK & POSIBILY KILL THEM.
For Warfarin Poisoning Only
VITAMIN K GIVEN BY Intramuscular injection
Warfarin
(Any type of mouse or rat poison, including glue traps)
Injectable
Baytril (used for pneumonia's, bronchial, lungs & Mycoplasma)
Tylan (susceptible infections)
Penicillin G (susceptible infections)
There are other prescription injectable thru your veterinarian that he may recommend that you keep on hand, depending on area that you live in and access time for treatment.
Baby aspirin
Liquids
For Piglets
Short Facts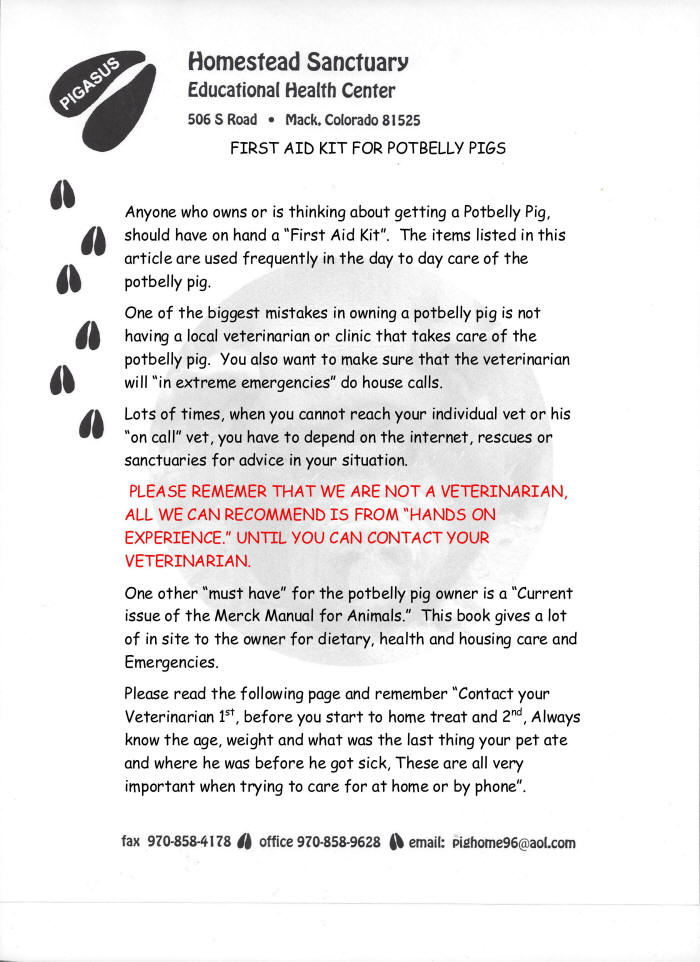 "IN CLOSING "PLEASE, PLEASE REMEMBER, THE ONLY DUMB QUESTION ABOUT YOUR PET IS THE "ONE NOT ASKED" 
Have questions? We have answers.