We All Have Friends
That Have Crossed Over
Ms. Essi & Ms. Chelsea Eulogy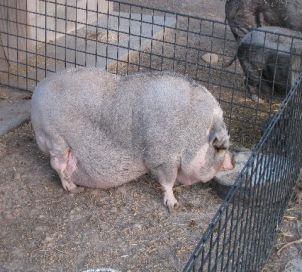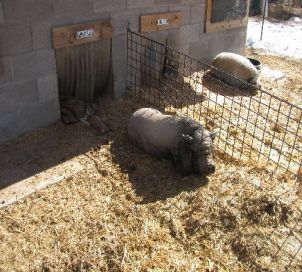 Dear Mom & Dad,
I just wanted to write and let you know what has been happening with me at the Pig-A-Sus.
As you know, I really liked my friend Chelsea, we would sleep together, eat together and sometimes even not agree on things, but we were always together since I got here.
When Chelsea began to get really sick a few months ago, I would take care of her.  I would make her get up and go for water, potty and then eat.  You would be so proud, I never 1 time ever ate her food, when she didn't feel like getting up 
to eat.
The night that Chelsea passed, she told me not to be sad, that she was only going to be gone for a little while and she would always be in my heart.
Nana Sioux & Rocky came every day, talked to me and Nana Sioux would rub my ears and cry, that Ms. Chelsea had gone to Rainbow Bridge. She was so sad also, Ms. Chelsea had been here a long time.
Then 1 day, I thought I was dreaming, there was this little girl sticking her head in the hut looking at me. I jumped up and looked, but it wasn't Chelsea, it was a little girl named Luci.  She was nice enough, but she wasn't my Chelsea.
I started to push all the blankets out of the hut.  I didn't want her there, So, Nana Sioux took her away.
 I was so sad. I didn't want anyone else to share my hut.  I didn't want to eat and I didn't want anyone else around. Nana Sioux called the Dr. Man to come and see me. He told her I was fine health wise, but after watching me for a while. He 
said I was depressed.  She was to just watch me and make sure I was drinking and eating.  Every day I would push my blankets out of the hut, Nana Sioux would put them back and I would push them out again.  I just pushed my feed bowl around the pen, Nana Sioux even left the gate open so I could go out in the yard.  I would go out and look for Chelsea, sometimes I would hear her calling my name, Essi, where are you?  Essi, You have to eat, Essi, I miss you too.
The Dr. Man came again, this time he said that he believed that I was getting more depressed and that my kidney's might not be working as good as expected since I had quit drinking and eating.
Nana Sioux moved me in the vet room where she could keep an eye on me all the time to see if I was eating or drinking.  
She would sit with me and tell me stories about the other pigs, you and dad, and Chelsea, and I got to listen to classical 
music all the time. 
On December 8, I was laying in my kennel in my blankets, I was not asleep and Chelsea came and told me, it was ok for me to go with her, that everyone who loved me wanted me to be happy. Nana Sioux came in the vet room and was sitting with me, and she also told me, "Ms. Essi, I know how much you miss Chelsea and ole girl it is ok,  I know that you are tired and want to go home.  So with God's speed, Ms. Chelsea is waiting on you at Rainbow Bridge, and you are free to go."
Mom & Dad, I wasn't scared at all, Nana Sioux was there with me, and I could see Chelsea waiting for me, and I decided, it was time for me to cross to Rainbow Bridge. When I got there, I could see Nana Sioux crying and I knew they were tears of Joy for me, because now I was where I wanted to be.
I have visited both of you a couple times since I have crossed.  Remember when you were getting in the car and the light breeze brushed against you cheek?  Mom that was me. When the breeze blows from the West, know that I am there and when that dog goes to his feed bowl and growl's know that I am sampling the food, and when that kitten, now a full grown 
cat, just crawls on your lap for a minute, know that I am there also.
I will always be in yours & dad's heart and you in mine.  Remember all the good times we had and all the sad times, but please remember this one thing.  " I passed thru your heart and soul" and I will do this again and again.  
Ilove you, "Essi Darling" Forever.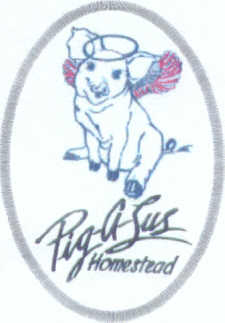 MS. HEIDI'S LEGACY
1992-OCTOBER 2014
Heidi came to live with me when she was 2 years old and only 45 pounds. Within a week I knew she had found a new forever home. It didn't take her long to bond with Hammy, and now I had two pigs to care for. Heidi went to Hog Heaven and became a guardian angel pig after living with me for 20 years. What a life she led and what stories I have about her in my memory bank!
Hammy was the perfect pet who never got into trouble. Heidi was the exact opposite. She learned to open drawers and pull out all the contents. She figured out how to open the refrigerator. I remember coming home from work one day and finding what looked like a blood bath in my kitchen. Heidi and Hammy had discovered the squeeze bottle of ketchup! Eventually the refrigerator had to be kept closed with a bungee cord, and I spent many hours cleaning up after Hammy and Heidi's exploits!
Heidi was the best traveled pig in the family. Back in the 1990s it was hard to find anyone who I trusted to pig-sit, so I drove everywhere – even on business trips. Heidi took over 50 trips with me (along with whatever other pig(s) I had at the time). We went nearly coast to coast. She traveled to California, Iowa, Massachusetts, Georgia, South Carolina, Texas and more. I have no idea how many thousands of miles we traveled. Pigs are the best car mates ever. They just sleep most of the time and need few potty breaks. Hammy and Heidi (along with my current pigs Queenie and Olivia) have attracted more than their share of on-lookers, and I'm sure there are many people who have photos of Heidi in their family photo collections.
Heidi was a tough pig, and needed a lot of socialization and personal attention to get her to be comfortable around people. While she got along great with Hamlet, there was a time when she decided she wanted to be the alpha member of the family. Yes, I received lots of black and blue marks in the early years, but she became the most mellow of pigs in her senior years. In her later years she would follow me around and want belly rubs, coming up to me and just plopping down on her side. She trusted me 100%. There aren't enough words to express the love between the two of us.
After Hamlet passed away I originally was not going to get another pig. Then I met a little female when I went to visit a herd of pigs in Swansea, South Carolina. That's when Miss Queenie came to live with us. At first Heidi wanted nothing to do with this fresh, up-start piglet, Within 3 months there were inseparable, and Heidi became the "big sister" to this shy little pig from the South. I remember when Queenie was spayed. Heidi stayed with her in the barn at Colorado State University the night before the surgery. And on the drive home, even though I tried to keep them separated to protect Queenie's stiches, Queenie wouldn't have it, and jumped into the back seat to be with Heidi. My two girls were together for almost 15 years. I know Queenie misses Heidi as much as I do.
Through the years Heidi has been the instigator of the pigs getting into trouble a few times. One summer when I was visiting family in Iowa, Heidi and Queenie decided to venture into the state park next to where we were staying. The pigs became uninvited (yet well photographed) guests at a wedding and then they continued the adventure into the wild, undeveloped area of the park. I found them enjoying a gourmet meal of weeds in the underbrush. They raised their heads to tell me they were okay, continued chomping on the tasty greens, and when their bellies were full, they found their way home.
Now I want to have a legacy for Heidi. While I've helped Sioux with a few pig rescues in the past, now that Heidi has her pig wings on, she is watching over all of us. Just within this first week since her passing, she has guided me to find a new home for a lovely little pig whose owner can no longer care for her, and Sioux has a lead for a new permanent home for Princess, a new resident at PIGASUS.
Heidi will be with me forever, and I hear her angel wings beating in my heart daily! 
Ms. Heidi legacy will be to help more unloved and abused potbelly pigs find good homes and forever love. Ms. Heidi was such an awesome little girl, who overtook so much in her life, but when she found Sue, she also was in love and for 20+ years had a life that most potbelly pigs only get to "Dream About". 
Rest in Peace, just doesn't seem to fit in this case, as I know from my experience with her, "There is no rest, as she will be sending message after message, where there is trouble and guide us to that "Unique Pet" who needs a human hand. Keep the wind on our cheeks and laughter in our hearts, Ms. Heidi. Nana Sioux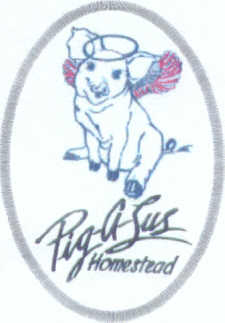 Patrick July 4, 2012 - January 31, 2013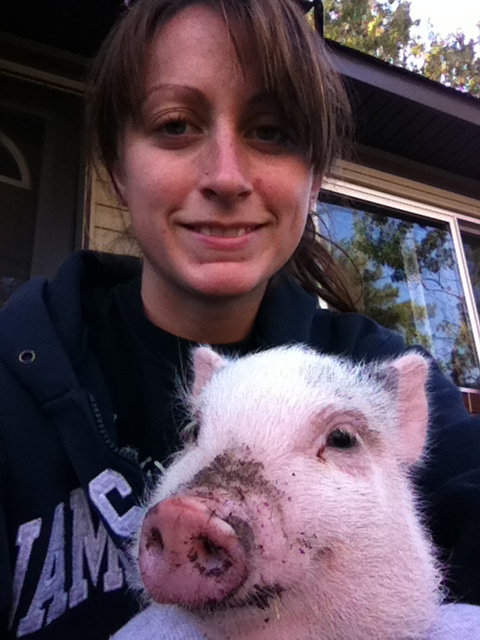 Patrick, from Virginia, was born July 4, 2012 and sadly passed away January 31, 2013. He was such a sweet little boy; he was sociable and loved to cuddle. We miss your kisses, giving you belly rubs, taking you for walks, and hearing all your
cute voices. Patrick brought so much joy to our lives. It hurts that our days together were cut so short. Our home will never be the same without him. He was happy, well loved, and always brought a smile to everyone's faces, even those that didn't know him. People would stop in their tracks to get a glimpse, touch, hold, or take a pic of him. Though it grieves us that
he is not here with us, we are glad that we were the family that got to be in his short life. __ He will always have a special place in our hearts that we will cherish forever. He is no longer in pain but in a special place. He will be missed greatly.
Lots of love and kisses,
Love Mom, G-ma, and G-daddy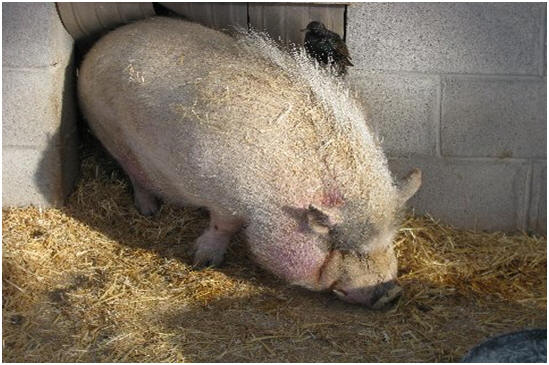 Harley, My Man, as he was so often called choose today to cross to Rainbow Bridge, without letting anyone except his 2 close companions know that he was going.  P.Deedie & Buckwheat were with him to the end,  Harley was a "runaway"
pig North of Fruita, Colorado in 2001 when we got him and at that time he was between 3 and 4 years old.  
He loved to be loved, wanted ears scratched more than his belly and would never refuse a treat of any kind.
May you Run Free, Run Fast, and let all your friends in Rainbow Bridge that are hearts think of them daily.   
 "Watch for all the beautiful birds in Heaven"
No farewell words were spoken, no time to say goodbye, you were gone before we knew it and only God knows why..
RIP, Nanna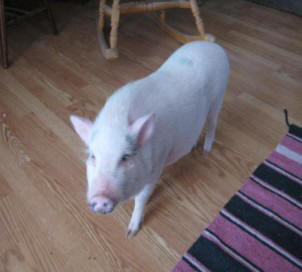 Ms. Sassy got her 1st debut in public appearance when she and her brother, Odie, flew from Florida, when they were 7 weeks old. When Ms. Sassy arrived, we knew she was special. She was so outgoing, popular with all the kids, Special Needs groups and her own pen.
After a few weeks of working with her, she became the "Star" of the Pig-A-Sus. Not only was she the star of the Pig-A-Sus, she made her debut in a short story film in Fort Collins, Colorado, about the noted town trolley and child abuse in the early 1900's.  She and Rocky got to spend the day in the film making. 
Then on August 2nd of we went to feed and she could not stand up on her front leg. Went to the vet, she had somehow obtained what they call a "compression fracture" of the elbow joint. After many x-ray and consults from various vet and surgeons, the choice was made that in no way would she ever have a stable and comfortable life, and she was helped to cross to "Rainbow Bridge."In our newsletter this month, we write about accidents that we have no control over and sometimes the results are not pleasant, and this is truly one of those times.
After further review of the x-rays, it was determined that the growth plate in her leg was not mature for a 2 ½ year old potbelly pig, there was also a 2nd x-ray of the other front leg and it showed that it would not support her weight or her ability to use that leg as her "lead" leg.  Also determined was that this is a product of "Inbreeding". Her mother was a "dump" pig at a sanctuary in Florida, a perfect example of what people are letting happen or "doing on purpose" to try to produce smaller Skelton for your term of "mini pig or worse yet "TEACUP" breed. 
So not only does the uneducated purchaser of the potbelly pig suffer with "Backyard Breeder" we in recue do as well.
May you be the shining Star at Rainbow Bridge that you were at the Pig-A-Sus Ms. Sassy….. 
                                                                              Run Free and Fly High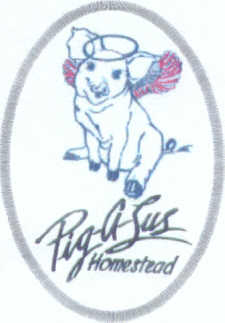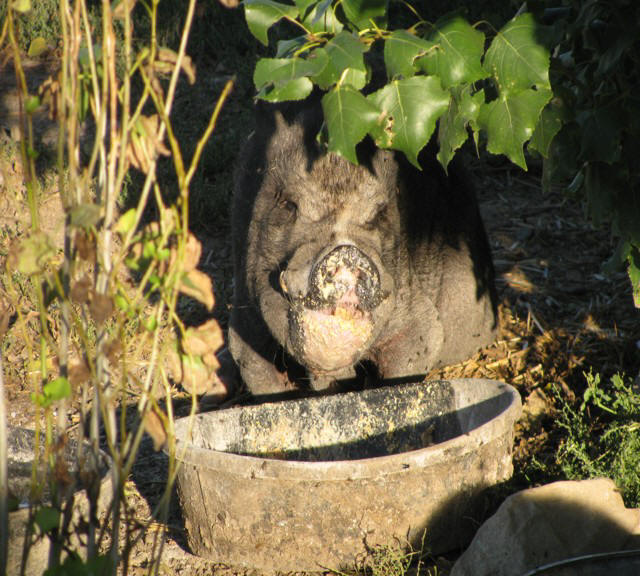 Crossed Rainbow Bridge age 20 1991 to 2011
Run Free My little Man, Nana
Hector (Hecky) came from Albuquerque, New Mexico at age 6 in 1997.
He was a "Throw away" by owners.
He became well know at the Pig-A-Sus and was loved by all whom he encountered
On this beautiful fall September 30, 2011, he crossed from Chronic Arthritic Disease. 
He will be sadly missed by all his friends both people and animals including his heart broken Nana and Poppa
Young Hecky was laid to rest along with all his friends at
"Uncle George Memorial Gardens" located at Pig-A-Sus Homestead Sanctuary
Nana Thumper, Pearlie Jo, Diamond + all others he encountered in 14 years of love and devotion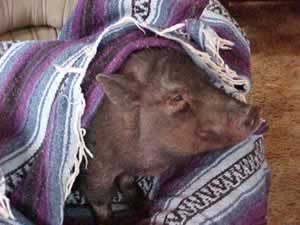 As the wind touches my cheek
My heart feels weak and meek
As the tears roll down my face
I look for a happy place
As the wind blows from the west
I feel my best
With Thumper looking down on my soul
She still sets the goals
The daily love,
I feel for her
My beloved Thumper
Fills my heart so big
With spirit from this wonderful
Potbelly Pig.
Circle of Life - Diamond Rio
November 1996 - August 2010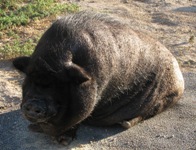 Pearlie Jo Hulahanna
July 2001 Crossed October 14, 2010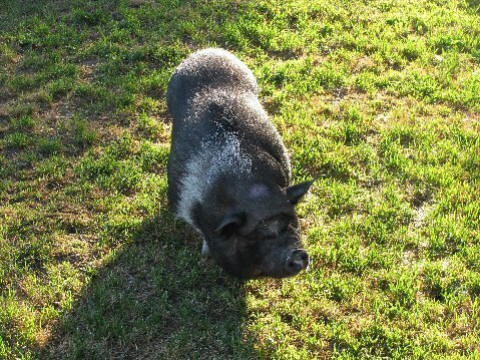 Miss Pearlie Jo Hulahanna, also known as Boo Boo, was laid to Rest at the Pig-A-Sus HomesteadSanctuary today, October 14, 2010,  along side many of her faithful and loving friends in the "Uncle George Memorial Garden,"
Pearlie Jo was a rescue when she was less than 5 weeks old, very sick and not given much chance to live, but strong hearted,  won the heart of everyone involved with her and her life long struggles to have a normal life.  She fought hard to be with us as many years as she did.  For over 9 years, she as well as us, never knew when she breathed, if it was her last.
She has taught those of us associated with her,  love, determination and most of all, dedication to let her  live and cross with dignity. Please remember Pearlie Jo with a prayer as she runs free, breaths so softly without effort.
Also prayers for  Thumper, who is responsible for her being able to have  had a good life, and Diamond Rio who was able to give her the Companionship of another Potbelly Pig…. in both of their final days.
They were waiting on her and as the 3 of them run together and wait for their "Humans"  Love, Peace and Dignity to  all from those who love with unconditional love.
Your Human's
Nana Sioux, Poppa Rocky & Swamper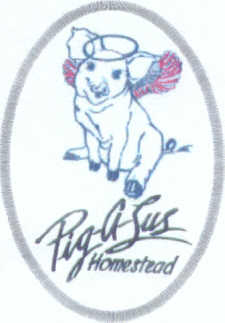 Diamond Rio
Born November 17, 1998 and Crossed August 9, 2010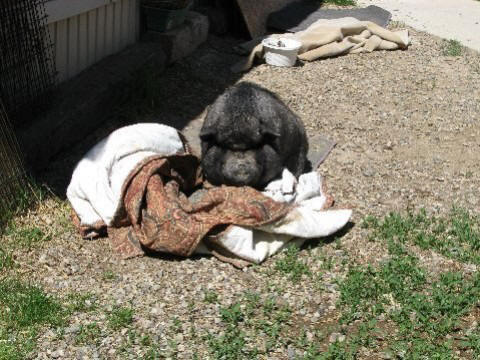 Diamond Rio crossed during the night to run free from pain and be with her friends who have crossed before her.
Diamond was born at the Pig-A-Sus and was adopted by Chris when she was a year old. At crossing she was 13 year years old.
She returned to the Pig-A-Sus this year in February due to needing 24/7 medical care due to seizures.
Tribute to Diamond Rio
My sweet, sweet Diamond Rio.
May you run in freedom of pain. May you continue to sit in the green grasses & fresh air and feel the warmth from the morning sun.
Feel the Butterflies on your warm snuggly nose.
Continue to know the love and joy you brought to those who's lives you touched.
Kiss Thumper for me & Kisses on the wind always.
"Nana Sioux"
Miss Diamond Rio was laid to rest at the "Uncle George Memorial Garden"
located at the Pig-A-Sus Homestead in Mack, Colorado
May your legacies live for ever and never be forgotten
Diamond was born at the Pig-A-Sus in November 1996 and adopted by Chris McCullah in 1997. She lived a long and loving life with Chris, until the accident in 2009, when she managed to get into a "self-contained" plastic mouse trap pack and chew the traps giving her the poison released in the warfin tablets inside the traps.
She returned to the Pig-A-Sus for her medical care as it was required 25/7 and with Chris job, she could not be home, as the seizure worsen.
With the help of Dr. Ian Smith and Dr. John Carr, the seizures subsided and she was able to maintain a quality of life, roaming the grounds of the Pig-A-Sus and sharing her last few months with Pearlie Jo as a companion.
Diamond is the 2nd only Potbelly Pig to complete the "Circle of Life" to have a loving home and returning
to the Pig-A-Sus in their final days. Luci, her sibling was the last one to do so,,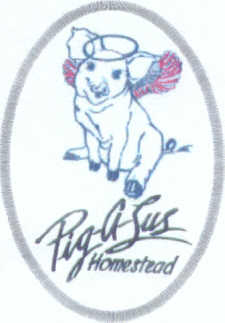 MISS MINI - MOUSE
Crossed the Rainbow Bridge at 15 years old. She was the last original pig at Pig-A-Sus Homestead. She was here all of her life.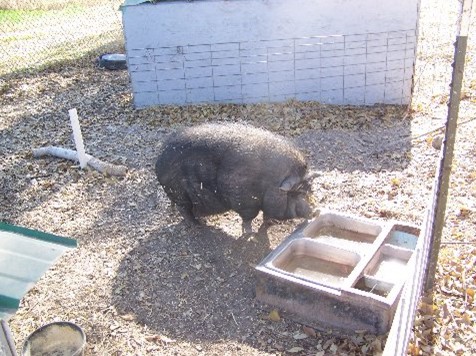 Tribute to one "Grand Ole Lady"
Only animal to appear at Country Jam USA representing Mesa County Project P.U.P.S. and arriving by Limo!
She also appeared with Hawaiian dancers for convention at the Hilton in Grand Junction Colorado where
she even took a swim in the pool.
Over 100 appearances at "special needs" facilities and hands on programs in Mesa County
Santa's helper for many years and part of the "Kiss-a-Pig" fundraisers
Handsome Harry
weighs in at over 300 at time of rescue at shelter, when we got he weighs in at 275.. Crossed over in 2007, at 12 years of age.
Miss Piggy
1988-1991 to 12/07/2009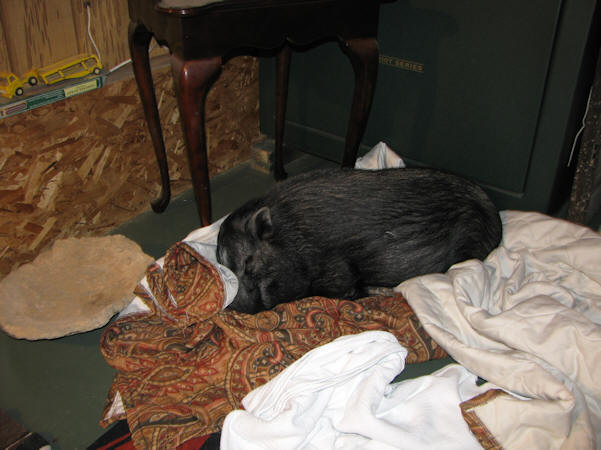 Miss Piggy was a Grande Lady of the potbelly pig world.  She had quite the social track record, becoming the 
leader of the Potbelly Pig Ordinance in Colorado Springs, Colorado in the mid nineties.
She remained with her original family until  June of this year, when she came to the Pigasus to live, due to health  problems with her humans.
She enjoyed her life at the Pigasus and became immediately a Grande Lady for all the "Special Needs persons" whom 
she came into contact with.
She began feeling not so good right after Thanksgiving.  We had her under constant vet care for the last 3 weeks. Over this weekend she began to go off food and not be able to poop.  She also had some throwing up.  The decision was made this morning to take her to surgery. 
After getting into the surgery, Dr. Smith found that an plum size tumor/abscess had attached itself to the small intestines and grown around the intestinal tract, closing it off.  The stomach cavity had excessive amounts of peritonitis.
The small intestines had grown right thru the center of the tumor, the intestine had swollen to the extent that the tumor could not be removed and intestine could not be  reconstructed.  She was closed and tumor sent  for biopsy.
Miss Piggy was laid to rest on this snowy day at the "Uncle George Memorial Garden" at the Pigasus Homestead 
in Mack, Colorado
Miss Piggy previous owner Janice Ward would be appreciative if anyone would like to email. wrdjanice@msn.com
For further information please contact me at the pighome96@aol.com
We did a photo of the surgery, and will be glad to share also the report when it comes back.       
She has 2 birth dates as they don't have her papers handy, and she was either 18 or 21.
BUT  NO MATTER,  she was a Grande Ole Lady of the Potbelly Pig world…… 
" May you run  pain free in those green green pastures with all your Friends"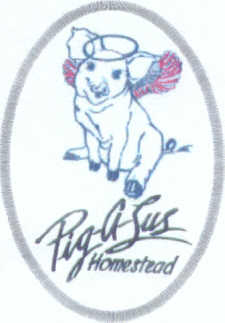 Clicking on the Rainbow Bridge above will take you to Petloss.com, a pet loss grief website.
Just this side of heaven is a place called Rainbow Bridge.
When an animal dies that has been especially close to someone here, that pet goes to Rainbow Bridge. 
There are meadows and hills for all of our special friends so they can run and play together.
There is plenty of food, water and sunshine, and our friends are warm and
comfortable.
All the animals who had been ill and old are restored to
health and vigor; those who were hurt or maimed are made whole and strong again,
just as we remember them in our dreams of days and times gone by.
The animals are happy and content, except for one small thing; they each miss
someone very special to them, who had to be left behind.
They all run and play together, but the day comes when one suddenly stops and looks into the
distance. His bright eyes are intent; His eager body quivers. Suddenly he begins
to run from the group, flying over the green grass, his legs carrying him faster
and faster.
You have been spotted, and when you and your special friend
finally meet, you cling together in joyous reunion, never to be parted again.
The happy kisses rain upon your face; your hands again caress the beloved head,
and you look once more into the trusting eyes of your pet, so long gone from
your life but never absent from your heart.
Then you cross Rainbow
Bridge together….
Author unknown…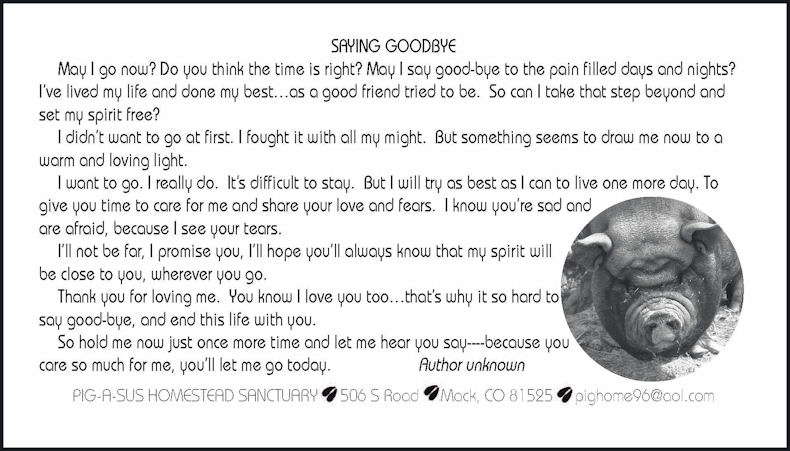 Have questions? We have answers.